Implantology of the motor system MD 11
An engine system which is capable of perfectly performing all the steps of the implantology due to the broad design of its motor control.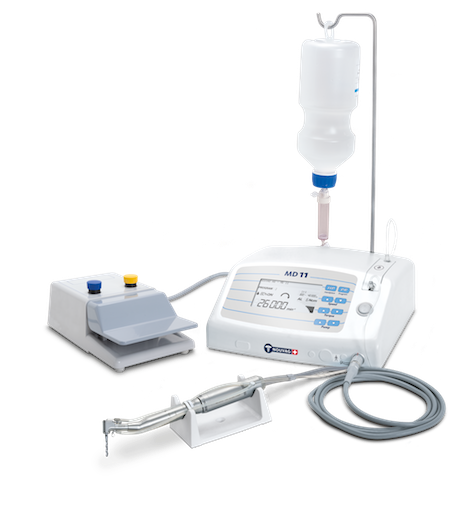 The MD 11 MD 11 and its larger brother MD 30 have been developed with a view to ensuring a low-vibration, fine motor run with continuous acceleration and power transmission, from the lowest to the highest speed.
This is also illustrated by the new design with rounded edges, which facilitates easy cleaning and underlines the compact, elegant appearance.
The individual parameters can be set via the washable keyboard foil by means of keys with a single assignment with haptic and acoustic feedback and the integrated, bright display provides all information at a glance. The insertion and replacement of the tubing set is very easy via the front accessible hose set compartment and the push button placed under it to open the compartment. The hose-receiving arm swings upwards and gives the view clear on the hose guide and the two eyelets where the hose set is attached.
A wide range of accessories and extensions can be ordered directly from Nouvag at any time.
characteristics
Sophisticated engine control for fine, precise power transmission at every speed.
Speed ​​range of the motor between 300 and 40'000 rpm.
70 Ncm maximum torque at the 20: 1 angle piece with graphical real-time display of the torque increase on the display.
Robust, high-quality technology and processing.
Integrated peristaltic pump for cooling the tissue, to prevent damage to the tissue.
3 Programs for drilling, tapping, implant and insert the cap.
Handpiece 1: 1, angle piece 20: 1, angle piece 20: 1 LED and angle piece 32: 1 are available.
| | |
| --- | --- |
| tension | 100/115/230 volts at 50-60 Hz |
| Power consumption / torque, motor: | 120 W / 6 Ncm |
| Speed ​​range, engine: | 300 - 40,000 rpm. |
| Max. Torque on the instrument: | 70 Ncm, 20: 1 angle piece |
| Instrument Clutch: | According to ISO 3964 (DIN 13940) |
| Cable length, motor: | 1 - 100 ml / min |
| Mass, W x D x H: | 260/250/110 mm |
| Weight, control unit: | 2.8 kg |
| Control: | Vario foot pedal |
---